Back to Events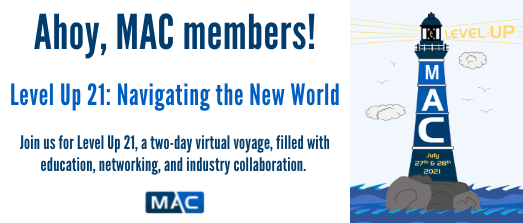 MAC Level Up 21
Navigating the New World
Tuesday, July 27, 2021
to Wednesday, July 28, 2021
MAC Level Up 21 is a virtual event to allow everyone in the industry to attend. We will send registered attendees a unique individual link to the event location.
Event Details
Event Login Instructions - 
An email has been sent to every registered attendee with a link to the event platform. If you have not seen the email arrive, please email us at [email protected]
The email was sent to the address provided at registration which in most cases is the address on file in your member profile. 
"Navigating the New World"

Members - $199
Non-Members - $249
As the world churns and changes, it becomes harder to see what is coming beyond the horizon. 
The landscape has changed drastically over the past year, and we still don't know the look of the 'new world' post-COVID.'  One of the 
best ways to reduce the risks we face is to seek out education, community, and communication.  Navigating this post-pandemic world to find a safe haven will take insight and a strong community working together. 
MAC and its Level Up annual conference serve as an industry compass to navigate new seas.  With a knowledge-packed agenda of content curated by members for members, and with expanded opportunities for networking and community-building, Level Up 21 will continue to provide you and your team with the knowledge and resources you need today and to prepare for tomorrow. We invite you to return this year and share your knowledge and lessons learned with your peers. 
Education
Level Up is the industry's premier event for collaboration, communication, and education dedicated to risk mitigation, regulatory compliance, and transformation and growth in the payments industry.
Networking
Level Up attracts 450+ payment professionals for networking, education, and sharing experiences and best practices. Level Up provides unrivaled access to your peers in the industry.  The conference delivers content cultivated by some of the industry's most talented risk and fraud experts and features sessions for all levels of expertise from keynotes to roundtables.


Resources
Our industry partners and speakers will provide white papers, tools, and other resources needed to face your daily challenges. Schedule demos, ask questions from experts, and hear possible solutions from your next solution provider.
Thank you to our Event Partners!
To learn about becoming a partner visit our Partners Page
DIAMOND AND KEYNOTE PARTNERS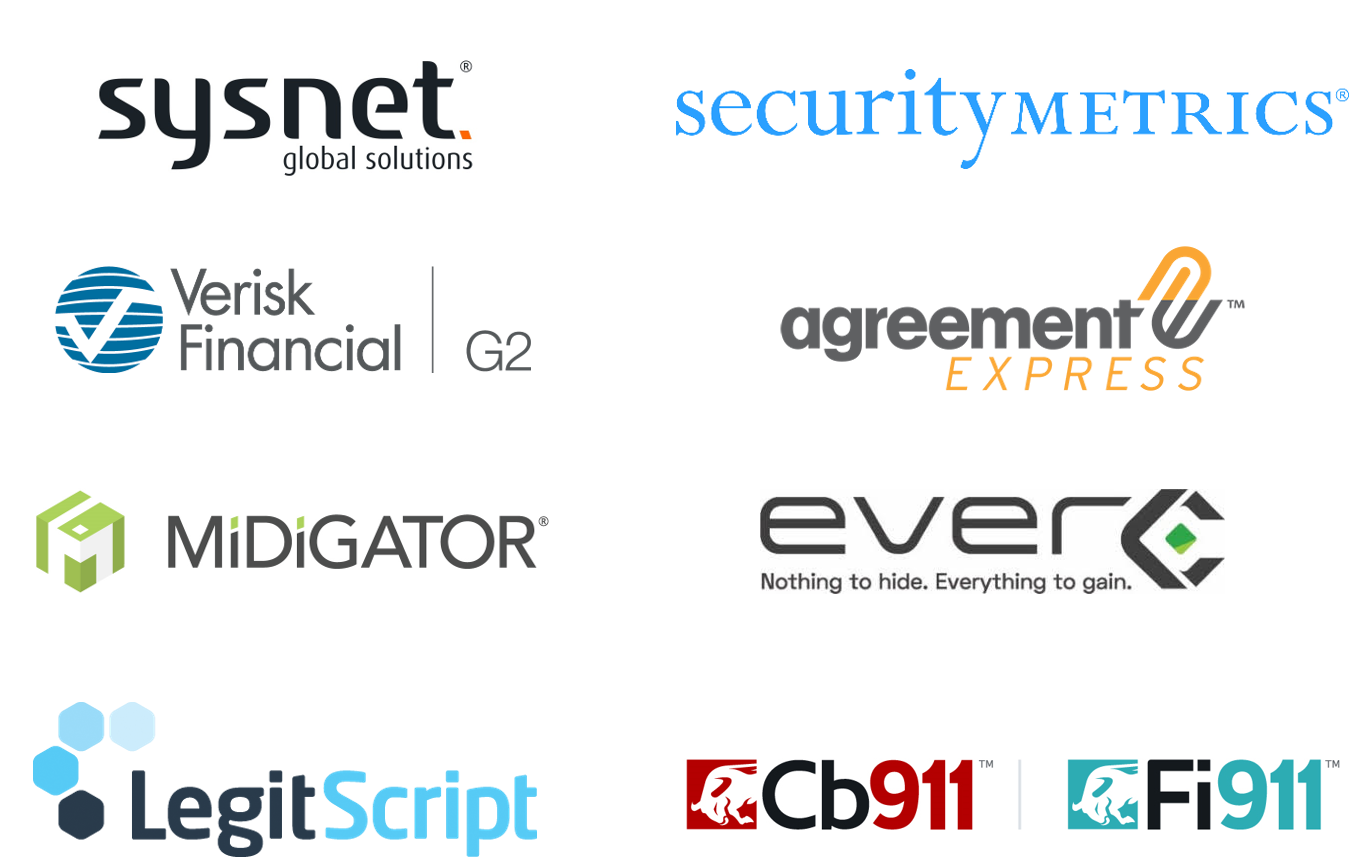 ---

GOLD & ENGAGEMENT PARTNERS

---
SILVER PARTNERS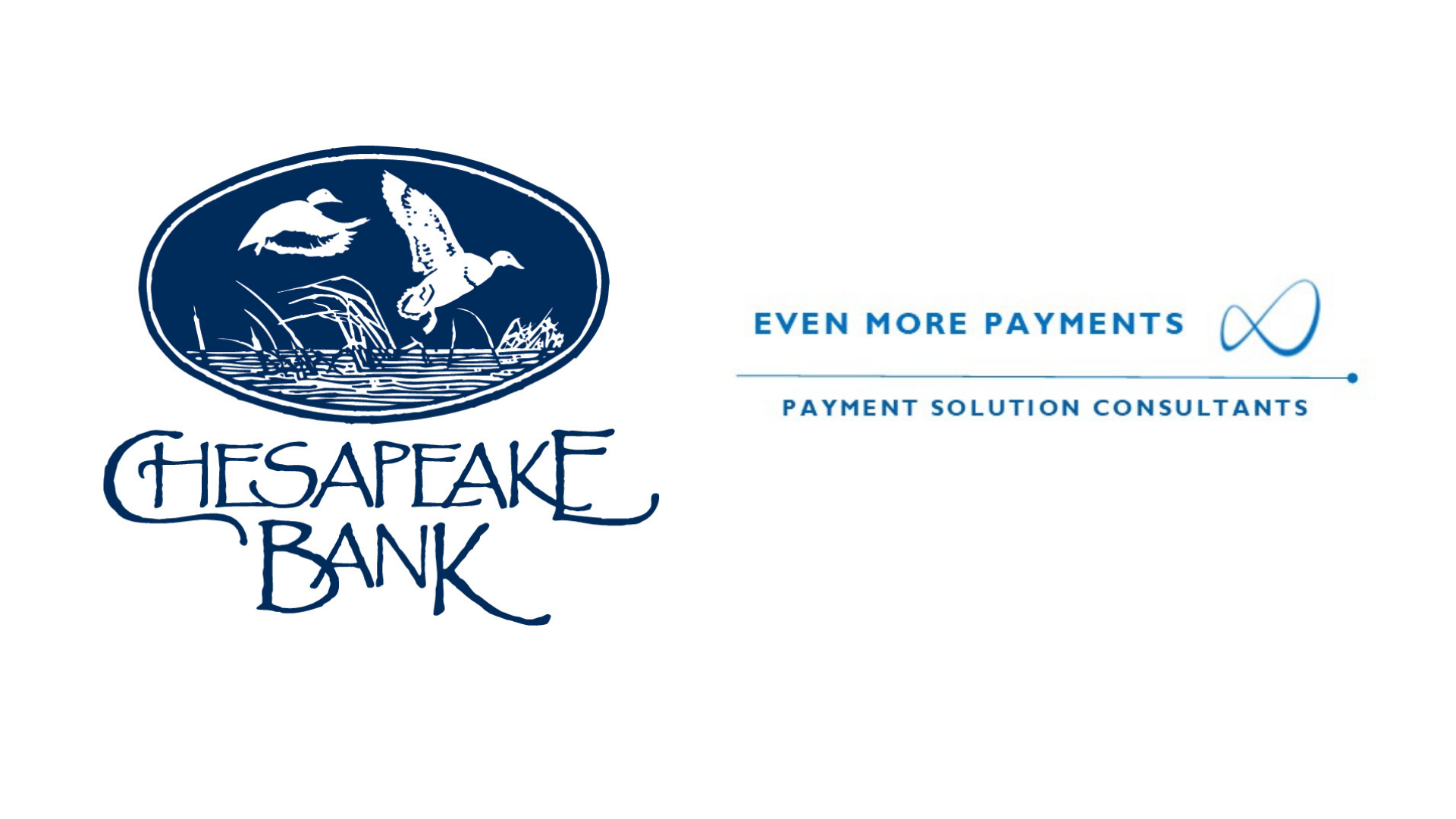 For more information please visit the FAQ Page
AGENDA PDF - Click here to get the full agenda.
All Times Eastern
There will be sessions from 1:00 - 5:45 EST on both days with pre-and post-events to be scheduled. Additional sessions will be added to the below as released. All sessions are subject to change. 
Some sessions will be recorded ahead of time and available to view anytime during the week. 
July 27

12:00 PM -
12:45 PM

Pre-Event: Networking Lounge Sponsored by Merrick Bank


Start your conference early and join other attendees in a Zoom chat room sponsored by our friends at Merrick Bank. Drink coffee, say hello to other attendees, discuss the compliance stuff that keeps you awake at night, or just goof off.

 1:05 PM -
 1:50 PM

Keynote - The Creator Mindset: How to Be More Creative at Work


Brought to you by:
The view from the MAC lighthouse has seen a lot of choppy water this past year. One way to survive and thrive is to find creative solutions. It helps to have creative problem solvers from all levels of the organization, but this isn't an easy thing to train. You need to change your mindset. Nir Bashan will share four creative tools to use today to reawaken your long-lost creativity in his keynote presentation. 

Nir Bashan: Author, The Creator Mindset, Speaker & Consultant

1:50 PM -
2:00 PM

KYC for Identifying Proper Merchant Fit
Sponsored Session from

Verisk Financial G2

Imagine if every merchant you board fits in your wheelhouse. Whether you specialize in particular verticals or prefer high or low risk, you can have fewer headaches and higher profits. Know Your Customer (KYC) due diligence is often thought of as an anti-fraud or check-the-box process enforced by the card brands. When done right, however, it can help you build your ideal merchant portfolio and reduce costs. Join us to learn more. 

Steven Withey, Verisk Financial G2

 2:05 PM -
 2:35 PM

The Rocks on the Shoreline: A Lighthouse View of the Upcoming Major AML Upgrades

On January 1, 2021, the United States Congress enacted the Anti-Money Laundering Act of 2020 (AMLA). Come join Aperia's Jim Bibles and Venable's Ed Wilson in a Fireside Chat to discuss the extensive and profound changes this new law brings to the Payments Industry and how it will affect how we all do business.

Ed Wilson: Partner, Venable
Jim Bibles: SVP Risk and Compliance, Aperia Solution

2:35 PM -
2:45 PM

Negative-option Billing: Risky Merchant Behaviors and Tactics
Sponsored session from LegitScript  

As negative option billing continues to pose a considerable risk for chargebacks and regulatory scrutiny, merchants are developing new measures to evade detection and obfuscate the nature of their accounts altogether. In this fast-paced, informative session, LegitScript expert Josh Edds sheds light on how to identify some of these practices and provides helpful tips and resources to help payment service providers minimize their risk.


Josh Edds: Program Manager, Merchant Monitoring, LegitScript

2:45 PM -
3:45 PM

Networking Break

3:45 PM -
3:55 PM

Top Three New Fraud Trends & How to Prevent Them
Sponsored Session from EverC

Learn about the top three and emerging trends in merchant fraud and suspicious activity and how to prevent taking on more merchant risk unknowingly. Join the industry experts from EverC; Raz Abramov (CTO), Tal Bitton (VP of Risk), and Lauren Keeney (Payments Risk & Compliance SME), as we discuss these insights, outsmarting fraudsters, and how new industry tools help you avoid hidden merchant portfolio risk.In this video, you'll learn to proactively prevent the following areas of risk:

Unknown and unaffiliated websites, including the dark web

Brand damaging counterfeit and illegal product listings

Products originating from sanctioned and embargoed countries and regions

Raz Abramov: CTO, EverC
Tal Bitton: VP of Risk, EverC
Lauren Keeney: Payments Risk & Compliance SME, EverC

3:55 PM -
4:40 PM

Payment Facilitator Fireside Chat

Join us for a chat with some subject matter experts in the payment facilitator industry. We will discuss payment facilitator requirements, best practices, and potential roadblocks—all while bringing innovation to the payment industry to support the growing business model.

Julie Schwartz: Director, Global Compliance Programs, FIS Global
Dan Spalinger: Head of Globar Advisory Services, Infinicept, Inc
Randy Mills: Dir. of Global Enhanced Due Diligence & Oversight, FIS Global

 4:40 PM -
 4:50 PM

Turning the Ship: Sink or Swim in the New World

The payments ecosystem has grown immensely as creators across the globe look for ways to continue to fund modern commerce during times of economic uncertainty. This change in the New World has led to a massive divide between PSPs that have flourished into success stories and the big losers of the pandemic. Many have only barely been able to hold on to merchant app volume and are in desperate need to turn the ship as this trend continues.

This session is exclusively focused on how to compete in the New World and help prevent firms from falling behind. With today's technology innovations, you don't have to build it, and you don't have to be satisfied with a DocuSign. Smart technology can keep labor costs down and lead to big ROIs that enable transformation and growth without compromising service or brand.

Join this session to discover the key innovations that allow you to secure payments, reduce fraud, and prioritize your clients and pipeline.

Mike Winters: VP of Sales, Agreement Express

 4:55 PM -
 5:25 PM

In the Weeds on Cannabis and Payments

Our panelists will provide an overview of recent developments involving cannabis (marijuana and hemp), including state legalization, federal legislative developments, etc. From there, the presentation will provide an overview of best practices for minimizing risk in providing payment services to the cannabis industry. These practices involve setting up robust anti-money laundering and fraud monitoring programs.

Andrew Bigart: Partner, Venable

Ed Marshall: Partner, AGG
Robert Durkin: Counsel, AGG

5:25 PM -
5:35 PM

Top 5 Tips to Modernize Your Chargeback Risk Mitigation


Sponsored Session from Midigator

Are you interested in increasing the efficiency of your chargeback risk team? Do you want dispute management to have a higher ROI? Then don't miss this timely session! 

Midigator's acquiring division recently audited an ISO's chargeback risk policies, procedures, and staff. The experience revealed damaging oversights that exposed the ISO to greater risk of loss and higher operational costs.

In this session, industry experts Mark Standfield, Domenic Cirone, and Joe Libby will share the top discoveries made during the audit, and explain how the issues may be impacting your company too. Learn to transition your chargeback risk department from an operational cost center to a revenue-generating opportunity.

Mark Standfield: President, Midigator
Domenic Cirone: SVP, Acquirer Solutions, Midigator
Joe Libby: Senior Vice President of Operations, Midigator

5:40 PM -
6:30 PM

Wave Your Wands, Wave to Your Friends: Opening Reception Brought to You by Pace Software

We can't be in Vegas for this year's conference so our friends at Pace are bringing Vegas to us!



Network and prepare for your mind to be blown! Join us on July 27th at 5:30 pm EST for an experience like no other. Keelan Leyser, a World-renowned Digital Illusionist, will provide you with a fully interactive, virtual digital magic and mind-reading show that happens right through your screen. Keelan Leyser has been on over 100 television shows, performed in over 60 countries, he was voted the British Magic Champion by his peers in the UK.  Keelan has hundreds of thousands of followers across social media and his videos have racked up 10s of millions of views.

At Your Leisure Recorded Session

Are Storm Clouds Forming on the Government Relations Horizon?

What will the Payments Industry look like in the Biden Administration & 117 Congress?

Tony Ogden and Scott Talbott will have a fireside chat on the stories, trends, regulations, and other government relations activity on the horizon that can impact the payments industry.

Tony Ogden: Principal & Chief Counsel, BankCardLaw.com


Scott Talbott: SVP Government Relations, ETA


At Your Leisure Recorded Session

If I Was a Cybercriminal, What Would I Do?

As e-commerce increases, so do cyber attacks. Just like hackers, we examined over 15 million websites looking for the most common and serious vulnerabilities. SecurityMetrics will introduce this new database, along with interpretation, analysis, and implications, in an effort to help the audience understand the mind of a cybercriminal. Attendees will be shown which e-commerce security issues are most pressing and get a dynamic, up-close view of the e-commerce threat landscape.

John Bartholomew: SVP of Technology, SecurityMetrics

At Your Leisure Recorded Session

Cashless Trends in Casinos, On-Line Gaming, and Lotteries

Gambling has become one of America's most popular forms of entertainment. Betting on sporting events is now legal in 27 states and Washington D.C., multi-state lottery jackpots continue to hit all-time highs, and casinos throughout the country are back open for business. All these factors have led to a significant jump in payment innovations and volumes in the gambling categories. This session will provide an overview of the payment trends across brick-and-mortar casinos, online sportsbooks, and state lotteries.

Christopher Granger: Lottery & Gaming Lead, Visa

At Your Leisure Recorded Session

Remote Interviewing: Creating an Effective Crew on Distant Shores

Top tips on how to uncover the strong collaborators during the interview process and how to hire long-term performers remotely. Dive into post-pandemic hiring trends in payments and fintech and understand how you can build a strong hiring process and remote team.

Liz Pike: President, Green Rhino Recruiting
Interviewed by Domenic Cirone: SVP Acquirer Solutions, Midigator

At Your Leisure Recorded Session

Coffee Break: Nacha Certified for Third-Party Senders

Join Jordan during the coffee break to hear about Nacha Certified. Nacha Certified is a voluntary program promoting strong risk management practices for third-party senders. This session will discuss what third-party senders should do to manage risk for themselves and the ACH Network, where you can find more information about ACH risk management and compliance, and how you can show your customers and financial institutions that your company is meeting industry expectations.

Jordan Bennett: Senior Director, Network Risk Management, Nacha

At Your Leisure Recorded Session

Securing Remote Payments in a Digital World

The growth of remote commerce is showing no signs of slowing; this increase in card-not-present transactions has driven a new age of consumer convenience, but in parallel, it also creates an increased fraud challenge.

Delegates attending this presentation will receive insight into how the EMV 3-D Secure (EMV 3DS), EMV Secure Remote Commerce (EMV SRC), and EMV Payment Tokenisation Specifications support the use of fraud-fighting technologies that deliver a consistent and trusted payments experience for e-commerce merchants and their customers.

Brian Byrne: Dir of Engagement and Operations, EMVCo

At Your Leisure Recorded Session

Acquirer Lens: What We've Been Through and Where We're Going

In a fireside chat, members of the MAC Bank Consortium Special Interest Group discuss what changes and challenges the last year has presented to businesses and how these changes and challenges might shape the future. The discussion will encompass the most impacted industry types; risk and underwriting impacts and changes; how to manage through crisis (i.e. COVID-19 global pandemic); fraud trends and shifts; the impacts of working from home(WFH) on businesses, including compliance impacts; and more.

Shari Savlick: Director, Merchant Compliance, Merrick Bank
Demitrious Baird: Vice President & Merchant Risk Officer, Esquire Bank
Adam Miller: VP of Sponsorship Oversight, Citzens Bank

At Your Leisure Recorded Session

New Requirements for Adult Content Merchants & Recent Trends with Negative Option Billing Merchants

Jonathan will be reviewing the new requirements for adult content merchants and discussing the recent trends Mastercard has been seeing with negative option billing merchants.

Jonathan Trivals: Vice President, Brand Performance, Mastercard

At Your Leisure Recorded Session

ACH – The Network: Setting New Records, Ever-evolving, and Innovating

The modern ACH Network saw volume soar in the first quarter of 2021, setting two new records in the process. Attendees will hear the details behind these historical increases. Jeanette will discuss recent and upcoming Nacha Rules changes that affect the MAC membership: financial institutions and third parties that process ACH. Walk away with knowledge of specific data security, warranty claims, reversals and enforcement, authorization, and Same Day ACH updates.

Jeanette Fox: Sr. Dir., Risk Investigation & ACH Network Risk Management, Nacha

At Your Leisure Recorded Session

PCI Program FAQs

Join Scott Robinson (Director of Customer Success) as he answers frequently asked questions about PCI programs for Acquirers, including: 

What are the associated costs of a PCI Program?

How can you increase portfolio compliance while maintaining and even growing compliance-related revenue? 

How do you make PCI easier for your merchants? 

What does your merchant experience look like? 

Watch this video to discover more ways acquirers can improve their PCI program and increase revenue.

Scott Robinson: Director of Customer Success, Security Metrics

At Your Leisure Recorded Session

False Personas, Real Fraud: The Threat of Synthetic IDs




Synthetic identity fraud is a sophisticated threat that has stymied the banking industry for years and is now emerging as a major threat to the online payments industry. Fraudsters use synthetic identity creation techniques to open online merchant accounts en masse to use them for transaction laundering, card testing, card cashing, and more. In this flash session, LegitScript senior analyst Grant Barba gives a high-level overview of synthetic accounts and shares how LegitScript identifies indicators of risk. At the end of the session, you'll have an opportunity to download a new guide on the topic.


Grand Barba: Senior Analyst, LegitScript

At Your Leisure Recorded Session

The New Chargeback Process: How to Adopt Early and Increase Revenue Opportunities

The chargeback process is constantly evolving. And the latest updates — like the addition of card brand collaboration products, revised rules, and various chargeback mandates — make the landscape even more difficult to navigate. Join Mark Standfield, a respected industry leader, to learn how to adopt these initiatives across your portfolio. Reduce chargeback ratios, scale processing abilities, and enjoy new revenue streams – all while providing an improved merchant experience.

Mark Standfieldt, Midigator

At Your Leisure Recorded Session

Your KYC Arsenal: Mastering Consumer Sentiment Checks

When it comes to know your customer (KYC) due diligence, you're not alone if you skim over (or even skip) consumer sentiment checks. While many other KYC lookups are mandated, researching customer reviews and ratings is merely a best practice. Since it's not required, it's easy to ignore—but that's a big mistake. Download this rapid-fire presentation to experience the following benefits: 

Understand how social media affects your merchant portfolio 

Leverage negative and positive news to grow and protect your business 

Implement better KYC practices for improved merchant quality and fit 

Steven Withey: Enterprise Account Manager, Verisk Financial Marketing

July 28

12:00 PM -
12:45 PM

Pre-Event: Networking Lounge Sponsored by Salus Payments

Start your conference early and join other attendees in a Zoom chat room presented by our friends at Salus Payments. Drink coffee, ask questions about the platform, discuss the compliance stuff that keeps you awake at night, or just goof off.

 1:05 PM -
 1:50 PM

Cybersecurity and the Future


Brought to you by:

Dr. Barker is challenging many of our past notions about cybersecurity, including how we present the threats and possible consequences of cyber-attacks, to our clients and prospective clients. The protection of information is more than just computers and goes well beyond the technical aspects we think of when we hear cybersecurity. The human element is present in almost every kind of attack attempt we can identify.

Dr. Barker will discuss the typical ways fear and very technical jargon are often used to motivate organizations to put more focus on security. This drumbeat of gloom and doom often results in the opposite effect. People end up confused and even paralyzed, not sure which steps to take, and in which order. She will outline more positive approaches that have been proven to motivate organizations into meaningful action to improve their security posture. 

Dr. Jessica Barker: CEO & Founder, The Phoenix Project
Interviewed by Chris Bucolo: President-Elect, MAC
1:50 PM - 
2:00 PM

The Flywheel Effect
Sponsored Session from Chargebacks 911

The pandemic has been a catalyst for change in many ways, including the evolution of the retail environment. It has created a shift in the way the world thinks and operates, which has cascaded down to disputes, creating a revolution.

Monica Eaton-Cardone: COO & Co-Founder, Chargebacks911
Harlan Hutson: Director of Strategic Partnerships & Brands, Chargebacks911

2:00 PM - 
2:20 PM

Break Sponsored by Nacha

2:20 PM - 
2:50 PM

Mastercard Strategies to Combat Card Testing

An overview of what Mastercard is currently doing to combat card testing and protect the ecosystem. 

David Press: Director - Franchise Management Program, Mastercard

2:50 PM - 
3:50 PM

Networking Break

3:50 PM -
4:35 PM

Nailing Jell-O to the Wall: Monitoring Constantly Evolving Critical Data

Note: Actual real-life examples of findings will be shown. JELL-O will not be served.

Risk screening a complex and dynamic process with lots of moving parts fraught with a myriad of manual tasks that can take days, even weeks, to perform. And, most folks only do it once. Because merchant risk can change over time, it is essential to frequently reassess risk after initial onboarding to detect irregularities. Appropriate action can be quickly taken, including repricing, adjusting reserves, and even deciding to shut down a merchant from further processing. Both screening and monitoring can have a substantial impact on merchant portfolio health by reducing risk, lowering fraud losses, increasing revenues, and protecting businesses from potential legal liabilities. Learn how new, affordable technologies can help greatly by automating the due diligence process for initial onboarding, as well as powering frequent ongoing monitoring.

Darrel J. Anderson: President, Payroc
4:50 PM -
5:25 PM

The Dark Web - Rise of Compliance and Cybersecurity


The Dark Web and the marketplaces on it are growing at an exponential rate. Hackers are doubling down on cybercrime-as-a-service—allowing non-traditional and unskilled hackers to wreak havoc in ways previously unheard of. Criminals don't have to be skilled to get your data; they just need to know where and who to go to for help. Learn about the inner workings and business of the cyber underground, focusing on the following:

Cryptocurrency – Digital currency's impact on the growth rate of cybercrime   
Cybercrime-as-a-service– Skilled hackers offering their packaged products and services for a low cost    
Cybercrime's role in the creation of Compliance and Cybersecurity   
Mitigating risk, how businesses can:     
Adhere to industry compliance requirements 
Build and maintain a strong security posture 
Protect themselves from all levels of cybercriminals through proactive threat-hunting

Joone Nijjar: Product Mgr., Armor
Mike Annand: Dir. of Customer Compliance, Armor

5:30 PM -
6:15 PM

Open Forum – Share Your Fraud Stories and Ask Questions


This session is reminiscent of MAC's traditional end-of-conference fireside chat with a virtual flare. It will be an opportunity for all attendees to share their fraud-related stories to foster discussion around ways to identify and protect the payments ecosystem, to ask questions, to hear other payments expert attendees for their perspectives, and to network and engage with other attendees. Whether you are new to the payments industry or a seasoned expert in the industry, you will gain insight from this session.