Back to Events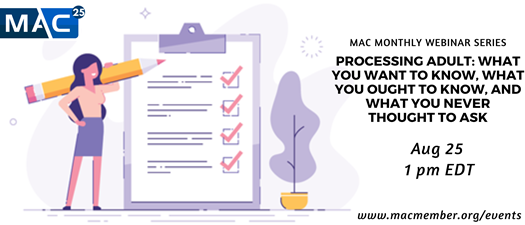 MAC Webinar: Processing Adult: What You Want to Know, What You Ought to ...
August's Installment of the MAC Monthly Webinar Series
Thursday, August 25, 2022
ZOOM - save the calendar invite
Event Details
"Processing Adult: What You Want to Know, What You Ought to Know, and What You Never Thought to Ask"
NOTE: This event was originally scheduled for August 16th but has since been moved to August 25th. You'll need to update your invitation on your calendar. Click the "Add to Calendar" button above to do so.
Processing high-risk merchants that focus on adult content isn't for everyone and comes with its own unique set of challenges. 
In this webinar, an industry expert will help you navigate best practices to implement a program at your shop to help avoid pitfalls, make sure you've got a program you're comfortable with, and set your team up for success. They will discuss some of the challenges that come with processing merchants in this space, examine how the onboarding process is different, and how to prepare your teams by providing guard rails so you can provide KYC and monitoring, and ensure a sound workplace for your team.

What You Will Learn: 
How to setup HR/Employee guidelines to protect employees and your organization
How to design a good onboarding/screening program
How to monitor risk with adult merchants
CPP Credits:
This course is eligible for one (1) CPP credit.