Back to Events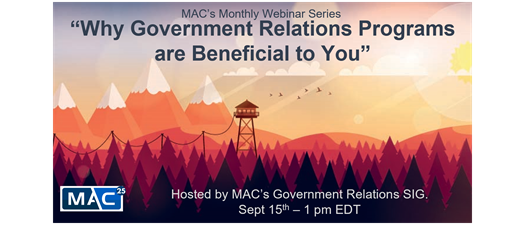 MAC Webinar: Why Government Relations Programs are Beneficial to You
September's Installment of the MAC Monthly Webinar Series
Thursday, September 15, 2022
Event Details
In the payments industry, legislative and regulatory policies can have a significant impact on issues ranging from state-level sales tax to national policies on data security and privacy.  While few payments companies support standalone government relations functions, all companies stand to benefit from staying informed. This webinar will use case studies and examples from the payments industry.

Speaker: 
     Ellen Berge: Partner- Venable
     Sarah Donovan: Senior Policy Advisor - Venable
     Jon Genovese: VP of Regulatory Compliance - MerchantE
     Scott Talbott: SVP of Government Affairs - ETA
What You Will Learn: 
How to identify what issues should be in your line of sight
How to stay on top of new laws, regulations, and policies, even when you might lack extra bandwidth
How to participate in a legislative or regulatory process
Identifying who to call when you need a seat at the table
CPP Credits:
This course is eligible for one (1) CPP credit.