Back to Events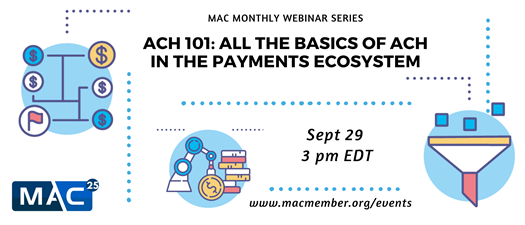 MAC Webinar: ACH 101: All the Basics of ACH in the Payments Ecosystem
Sept's Bonus Installment of the MAC Monthly Webinar Series
Thursday, September 29, 2022
ZOOM - save the calendar invite
Event Details
ACH 101: All the Basics of ACH in the Payments Ecosystem
The ACH Network, governed by the Nacha Rules, is a cost-effective way to push credits and pull debits from an account at any Financial Institution in the United States. The ACH Network sent over 29 billion transactions worth over $72 trillion in 2021. Payments providers offer ACH because it is a trusted and low cost payment method desired by their customers. In this session, Jordan Bennett, AAP, APRP will show you how the ACH Network functions and help you understand the role your organization plays in keeping the ACH Network safe. This session is for individuals new to the payments industry, payments industry veterans looking to expand their payments knowledge to include ACH, or payments experts wanting a refresher of ACH basics.
Speaker:
Jordan Bennett: Senior Director, Network RIsk - Nacha
In this webinar you will learn:
An overview of the ACH system and what makes the ACH Network unique
The participants in an ACH transaction and each participant's role and responsibilities
The risks associated with ACH payments and how to manage those risks
CPP Credits:
This course is eligible for one (1) CPP credit.