Celebrating MAC Volunteers
MAC is a volunteer organization.  It is driven and exists because of dedicated professionals who are interested in educating the community and protecting the integrity of the payment ecosystem.  Join us in celebrating our volunteers!
MAC Volunteers
are AWESOME!

There is a new sense of excitement and renewed optimism in the air at MAC lately. We have YOU to thank for it. We can say that it is not just post-COVID euphoria – it is because of our amazing volunteers. 
Our Volunteers Have a Lot to Celebrate
We are not just talking about the approach of MAC's 25th year -- we are adding new volunteers to nearly every activity and committee.  With new volunteers comes new energy and ideas, and our ability to make a difference grows.
Here's a small sample of some things MAC accomplished so far in 2021 thanks to volunteers: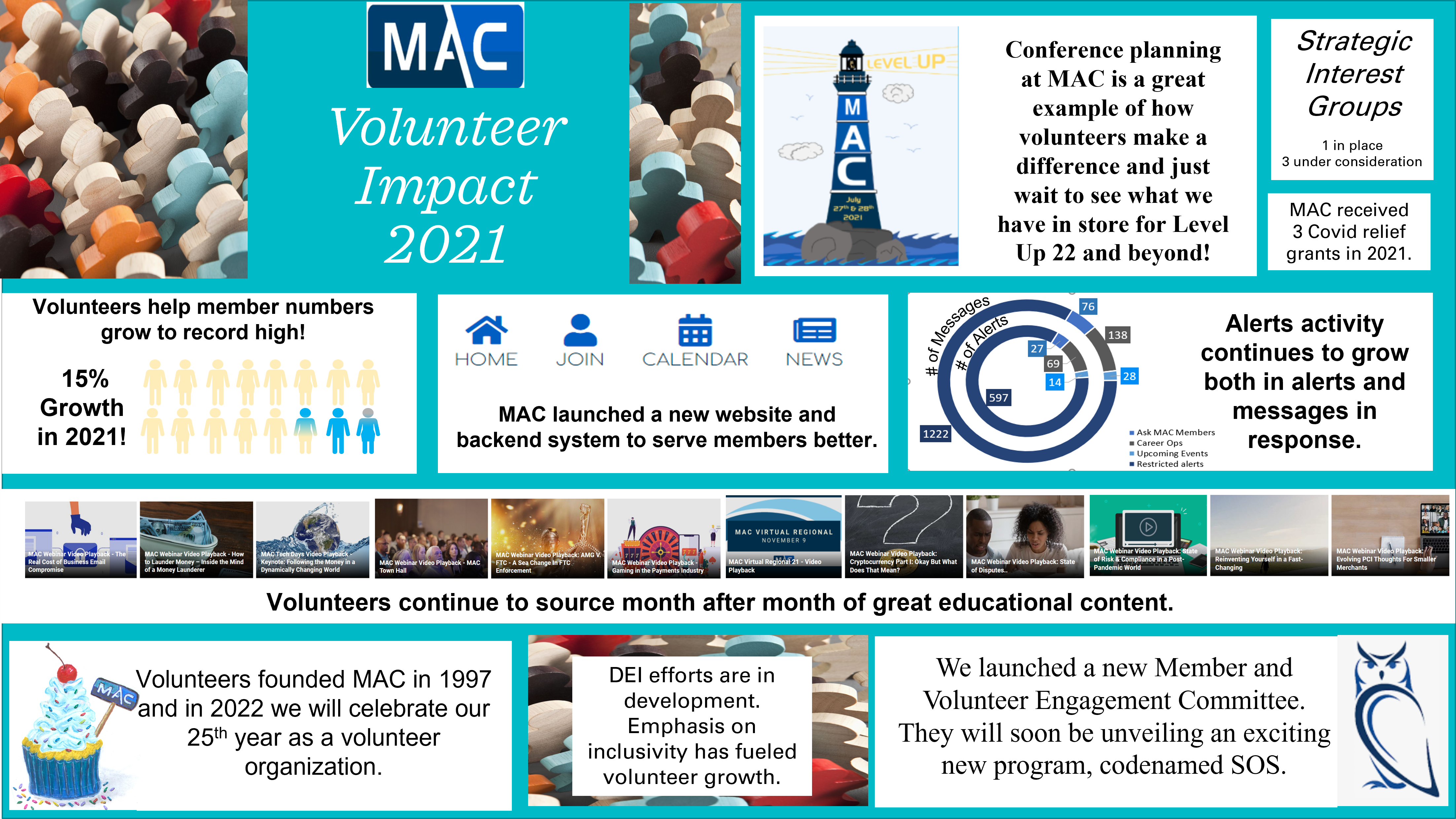 Our accomplishments are the story written by our volunteers. MAC is fortunate to have had a great core of volunteers that grew the organization from nothing to what it is today.  We remain committed to inclusivity, personal growth for members, and our mission.  In addition to the contents of this page, we have additional volunteer recognition programs in the works, including conference perks for volunteers and some other future surprises.  
And We Have a Lot of Volunteers Worth Celebrating
THANK YOU to ALL MAC Volunteers!  
As we continue to develop our volunteer recognition programs, we will add more details and stories to this website and other resources.  
See also our new awards page in recognition of our first volunteer awards!
Volunteer Spotlights
Each month MAC celebrates a different volunteer on our home page as part of our Volunteer Spotlight. These individuals are nominated by other MAC members. They may be volunteers who have served MAC in leadership roles for a long time or new MAC volunteers. We seek to celebrate the diversity of contributions, both big and small, by members across our community. If you would like to nominate a volunteer to be included in a spotlight, please contact us.