Back to Events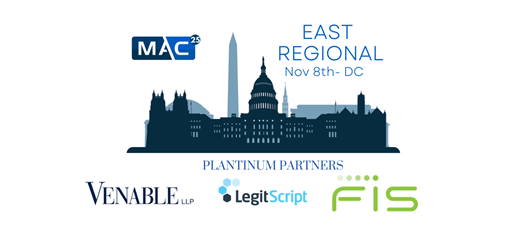 MAC East Regional
MAC is going back to D.C.!
Tuesday, November 8, 2022
Event Details
MAC East Regional 
MAC is going back to DC!

Please join us in Washington DC for the MAC East Regional. This event will be a full day of sessions covering trends, hot topics, and deep-dive discussions in the legal, compliance, and regulatory topics impacting the risk and compliance industry. MAC Regionals are an excellent chance for your organization to stay informed on industry topics in between attending MAC's annual conferences. The last segment is always MAC's famous Roundtable - time and space set aside for members to share challenges, ask questions, and collaborate by sharing best practices.  
Cost:
$49 - Members
$99 - Non-Members


This event is eligible for six (6) CPP credits. 
*Agenda is tentative and subject to change. 
Hotel Options: 
T
he Venable DC office is located near the Conrad Hotel and Marriott Marquis. Other nearby properties include the Hotel Monaco and the Washington Marriott. 
Agenda
November 8
9:00 AM - 9:10 AM

Opening

Welcome to the MAC East Regional
9:10 AM - 9:55 AM

FinTechs and Their Role in the ACH Network

Financial technology (FinTech) organizations seek to improve and further automate payments - making it easier for consumers and businesses to participate in payment networks. This session will look at this rapidly growing role of FinTechs in the ACH Network: the opportunities, the benefits, and the risks. Speaker: Jeanette Fox, Sr. Dir., Risk Investigations - Nacha
9:55 AM - 10:40 AM

Fighting the Fog of Surcharging

Surcharging and Cash Discount seems to be getting foggier and foggier as time passes. We'll have a frank discussion on what is actually happening, what questions are still lingering, and what legal and regulatory implications are expected in the near future.
10:40 AM - 11:00 AM

Break

11:15 AM - 12:00 PM

Subscription Merchant Disputes and the State of Compelling Evidence

Your subscription merchants are a valuable, but volatile, revenue stream which is almost entirely dependent on successful risk management. Join Mark Standfield and Domenic Cirone for a timely discussion on the current state of chargeback management as it relates to subscription merchants. Walk away with new industry knowledge about future enhancements, actionable tips to address friendly fraud, and best practices for compelling evidence that wins.
12:00 PM - 1:15 PM

Lunch

1:15 PM - 2:00 PM

A Conversation with the Commission: The FTC's Focus on Payments

Join us for a special chat with the FTC where we ask about recent news and emerging trends. Speakers: Benjamin Davidson, Payment Processing Coordinator - FTC; Ed Marshall, Partner - AGG
2:00 PM - 2:45 PM

What's New With the CFPB

Join Barrie van Brackle and Ellen Berge as they have an in-depth discussion on the latest news with CFPB and take a look into the crystal ball to talk about the future.
2:45 PM - 3:05 PM

Break

3:05 PM - 3:50 PM

Rollercoaster of Payment Processing. Fast. Profitable. Challenging, Exciting

Payment processing can seem dangerous but with the right controls in place, there are ways to remain safe and profitable. Much like a rollercoaster if you think about it. Our fireside chat will discuss how the payment processing business can be a revenue generator. They will also discuss how leaders can prepare for the dips and turns. And, of course, they will discuss the importance of safety and compliance to keep the cars moving down the track.
3:50 PM - 4:30 PM

Roundtable Discussion on Your Tougher Cases & What Keeps Us Up at Night

A roundtable discussion with you, the audience, discussing the tougher cases, the trends, and the items discussed during the Regional. Ask questions of your peers. Share best practices. Find solutions and friends facing the same dilemmas that you are.
4:30 PM - 5:30 PM

Community Reception