Back to Events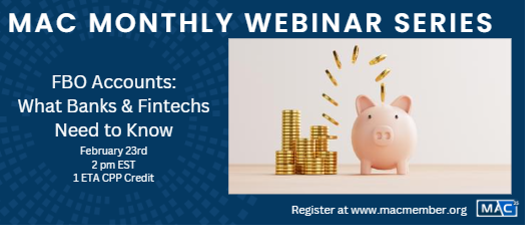 MAC Webinar - "FBO Accounts - What Banks & Fintechs Need to Know"
The February installment of the MAC Monthly Webinar Series
Thursday, February 23, 2023
11:00 AM - 12:00 PM (PST)
ZOOM - save the calendar invite
Event Details
MAC Webinar February - FBO Accounts: What Banks and Fintechs Need to Know
A common trend among fintechs for managing these risks is to partner with banks that offer custodial accounts opened for the benefit of (FBO) the fintech's customers. Because banks are exempt from money transmission licensing requirements, fintechs use FBO accounts to provide banking-like services while avoiding money transmission regulation and licensing. How do regulators view the FBO model? Is getting an FBO account as simple as it may seem? What license requirements are needed?

During this session, we'll discuss how the FBO model remains largely untested among regulators, and fintechs must structure their relationships and services to fit within the contours of the bank's FBO offering. We'll also discuss the benefits and risks of an FBO model, money transmission license requirements, and the impact on the Bank-Fintech partnership.
Speakers:

Ellen Berge
Partner, Venable
Andrew Bigart
Partner, Venable

Chris Boone
Counsel, Venable



In This Session You'll Learn:
The challenges and pitfalls of an FBO model

The benefits of an FBO model

What licensing requirements are needed

Impacts to the Bank-Fintech partnership